Current and Upcoming events

---
The Valley Art Club held their 80th Annual Exhibition at the library on Sunday September 25th.
The paintings will be on display until Thursday October 5th.
Stop by to view the beautiful paintings and art.
Some of the works are for sale.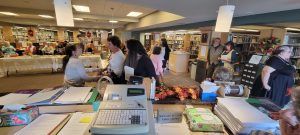 ---

---
Memorial Book Program
Monessen Public Library & Cultural Center wants to remind friends and patrons of the library's memorial and remembrance program.
A book can provide a lasting tribute to the memory of a loved one or provide a unique way to honor special events such as birthdays, graduations, anniversaries, or other special occasions. Your tax deductible gift to the library will not only be a lasting memorial, but will also bring enjoyment and knowledge to the community. The Library also does pet memorial books for the loss of a furry family member.
Each gift book will have a special bookplate which gives the name of the person to whom the book is dedicated and the name of the donor. The library will also send a letter to the person being honored or the surviving family.
Donors may suggest a specific title or have the librarian choose a title in a designated subject area. New and popular fiction provides an excellent source for the deceased being remembered through maximum circulations of the item. The minimum donation for a memorial book is $25.00, through which the library chooses a book. For a $30.00 or more donation, the patron may choose a specific subject.
Social Media
Monessen Library is expanding our social media presence! Check us out on Twitter, Instagram and Facebook!
Here is a partial list of some services that Monessen Public Library & Cultural Center can offer you:
FREE Wi-fi
Photocopying – .20 for b&w ; .50 for color
Faxing – $1.00/page to send; $.25/page to receive
Meeting room space
DVD rentals
Audio books
Large print books
Free computer access
Magazines
Study areas
Comfortable reading spaces
Tutoring rooms
Genealogy
Adult programs
Children's programming
Cultural events
E-books
Interlibrary loan service to request materials from other libraries
Community center to interact with others