Library Programs and Area Events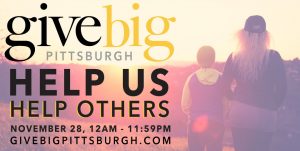 Support the Library During Give Big Pittsburgh!


Make your donation November 28, 2017 from midnight to 11:59 PM.
Give Big Pittsburgh will raise money for local nonprofits through a single online donation platform, providing a simple way to connect donors to the charitable causes they care about most and encourage them to take action. This 24-hour online fundraising effort hosted by the Pittsburgh Magazine in conjunction with the Pittsburgh Foundation and local sponsors, will offer our area of nonprofits the chance to raise funds to support their critical missions. Get more information here.
Current Library Hours:
Monday – Wednesday : 9-7
Thursday : 9-5
Friday: closed
Saturday : 9-4
Sunday: closed
Annual Fund Appeal
Letters containing the annual fund drive appeal have been mailed to many supporters and benefactors of the Library. Please be as generous as possible. The annual appeal helps maintain services and add new programming. For eighty-one years, the Library has been a viable and unifying factor in Monessen. Please send your Contribution back as soon as possible to YOUR Library. If you did not receive a letter, donations can still be made at the Circulation Desk or by mail. Thank you!
Give Big Pittsburgh (Day of Giving)
For those of you who prefer to donate to the Library through the Community Foundation's annual Day of Giving, this year's event has been transformed into the "Give Big Pittsburgh" campaign. It will begin on Tuesday, November 28, 2017, at 12 AM and be hosted by Pittsburgh Magazine. During this appeal, the Library will receive an extra percentage for each donation from the Community Foundation. Google "Give Big Pittsburgh" for further information.
Please Donate Coats to Help Those in Need!
Monessen Public Library & Cultural Center is now collecting new or gently used Coats, Hats and Gloves for children and adults. The clothing can be donated during regular business hours and deposited in the collection box near the circulation desk.
Thanksgiving Day Closure
The Library will be closed on Thursday, November 23 through Saturday, November 25, 2017. The Library will reopen on Monday, November 27, 2017, at 9 AM.
Holiday Boutique
The Friends of the Library will open their annual Holiday Boutique in November. Check Facebook for the exact date. The Boutique will feature a great selection of new or almost new holiday gift ideas at reasonable prices. Shop early for the best selection.
Enjoy Coupon Books
Enjoy Coupon Books are being sold at the Library Circulation Desk for a donation of $30 each. They feature discount coupons for local and regional favorites.
Monessen Crochet/Knitting Club – Wednesday, November 8 and 22, 2017
All knitters and/or crocheters are encouraged to attend the meetings on Wednesday, November 8 and 22, 2017, at 6 PM. Bring your projects! New members welcome.
Mon Valley Genealogy Forum – Monday, November 20, 2017
The Mon Valley Genealogy Forum will meet on Monday, November 20, 2017, at 5:30 PM. The group is open to anyone interested in genealogy. Light refreshments will be served. The group will discuss the latest articles regarding "genealogy in the news", new research sites, and family histories.
Veterans Day Special
The Library is running a Veterans Day special all during the month of November! Copies of the Monessen Veterans Flag book are available at the Circulation Desk for the special donation price of $10.00 each. Quantities are extremely limited. Hurry and get yours before they are all gone!
MPL Board of Trustees
Public is welcome at all board meetings. Second Wednesday of the month at 5:15 PM.
Ongoing Programs
Many groups and organizations meet at Monessen Public Library & Cultural Center each month, including:
Black Diamonds
Highmark
Mon Valley Genealogy Forum
Overeaters Anonymous
NAR-ANON (for those affected by drug use in a family member or friend)
Monessen Library App
The Monessen Public Library now has an APP for your phone! To download the APP, Android users should use "Play Store" and IPhone users should use the "IStore". Search for "Monessen Public Library." If you have any questions please call the library at 724-684-4750.
Social Media
Monessen Library is expanding our social media presence! Check us out on Twitter, Instagram and Facebook!
Some Services Found at YOUR Library:
Large Print Books
Audio Books
Local Newspapers
E-Books
Magazines
Meeting Rooms
Study Areas
Tutoring Rooms
Genealogy Classes
Adult & Children's Programs
Free Computer Access
DVD Rentals
Copying
Faxing
Community Cultural Center